Tyke wrote:

Dancematt wrote:

downer wrote:Is this what you have in mind?

Thats pretty darn lovely Downer, I was maybe thinking chocolate dial with gold accents and hands perhaps, Ltd edition?

Think some may be put off by its ability to never look perfect again, but when u have alot of steel watches its nice to see something different. Lets face it, all other new materials out there are good ways to make watches more expensive!

No. Actually, HELL NO!

Just my opinion, but I don't think you would get anything like enough people to buy something like this even as an LE. This kind of thing might work as a special order / on off piece with a price tag to match, but it has to be the reason why you don't see this kind of thing available frankly anywhere mainstream - insufficient demand. It would take a very brave maker to risk it for large scale production IMHO.
Downers image seems to me to be of a bronze watch that has been exposed to extreme patina, a look that would not be achievable for many many years if the current favorite alloy among brands was used (UNI 5275 Bronze- CuAl11Fe4Ni4) they would patina like this initially (the look below has been accelerated using certain methods):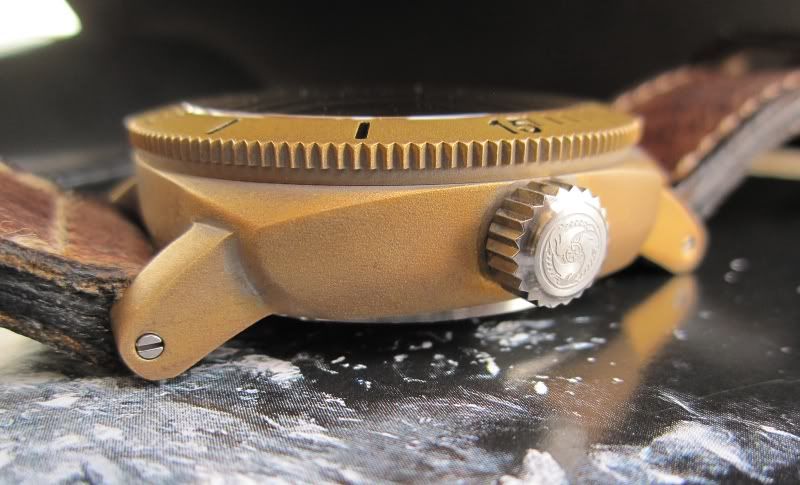 check out the watchuseek link for extra info
here
Although Anomino have been making bronze watches large scale for a number of years it seems other big brands have used the metal aswell (apparently) namely: Alain Silberstein, Hublot, Rado, Gerald Genta and Audemars Piguet but for sure i think a limited run would make better sense for a smaller brand but thats no bad thing. Limited editions are always a lot of fun!
Bronze will never replace steel or gold, It just seems to be in vogue this year and will find fans just as how people find there ways into different niches of music or movies that, given time, build a cult.